SS Motor without Terminal Box
This range of motors do not have a connection box – just a cable gland and gland plate. The motors are still rated IP67.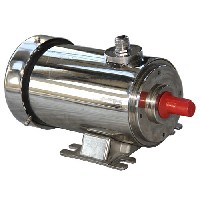 Description
Perf. Data
Dimensions
Product Display
The motors of this series are totally enclosed three phase cage asynchronous motors.
The dimensions are to NEMA standards and the motors are tested as per IEE112. We can supply motors with non standard voltages and frequencies. All motors have 150 Deg.C. thermistors as standard. Class F insulation. The motors are easy to clean and are suitable for food processing and pharmaceuticals.
Construction Case