NEMA STAINLESS STEEL MOTOR
Frames from 56 to 256T. (All TEFC construction except 56 frame which is TENV). Motors can be supplied with standard C flanges. IP67.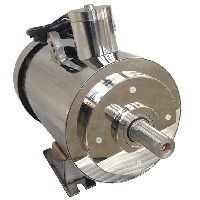 Description
Perf. Data
Dimensions
Product Display
The motors of this series are totally enclosed fan cooled three phase asynchronous motors that meet NEMA premium efficiency and dimension standards.
Class F Insulation as standard.
Power from 0.33Hp to 20Hp.
All external surfaces are 304 Stainless Steel except the shaft which is 420 Stainless Steel.
The end covers are screwed into the motor frame with a machined thread and sealed with an O ring.
There are no "through bolts" and the motors are easy to keep clean.
Construction Case